Winter Tires
Enhance Your Vehicle's Performance and Safety With Winter Tires From Equipfix
Winter Tires Are Engineered for True Winter Conditions
Winter tires have specific features that allow them to give you better traction and handling in winter conditions. From heavy snow to black ice, roads in winter can be extremely unpredictable. Give your vehicle the upgrade it needs to perform better and more safely this winter with the best winter tires. Contact the mechanic shop at Equipfix in Ontario today to request a quote.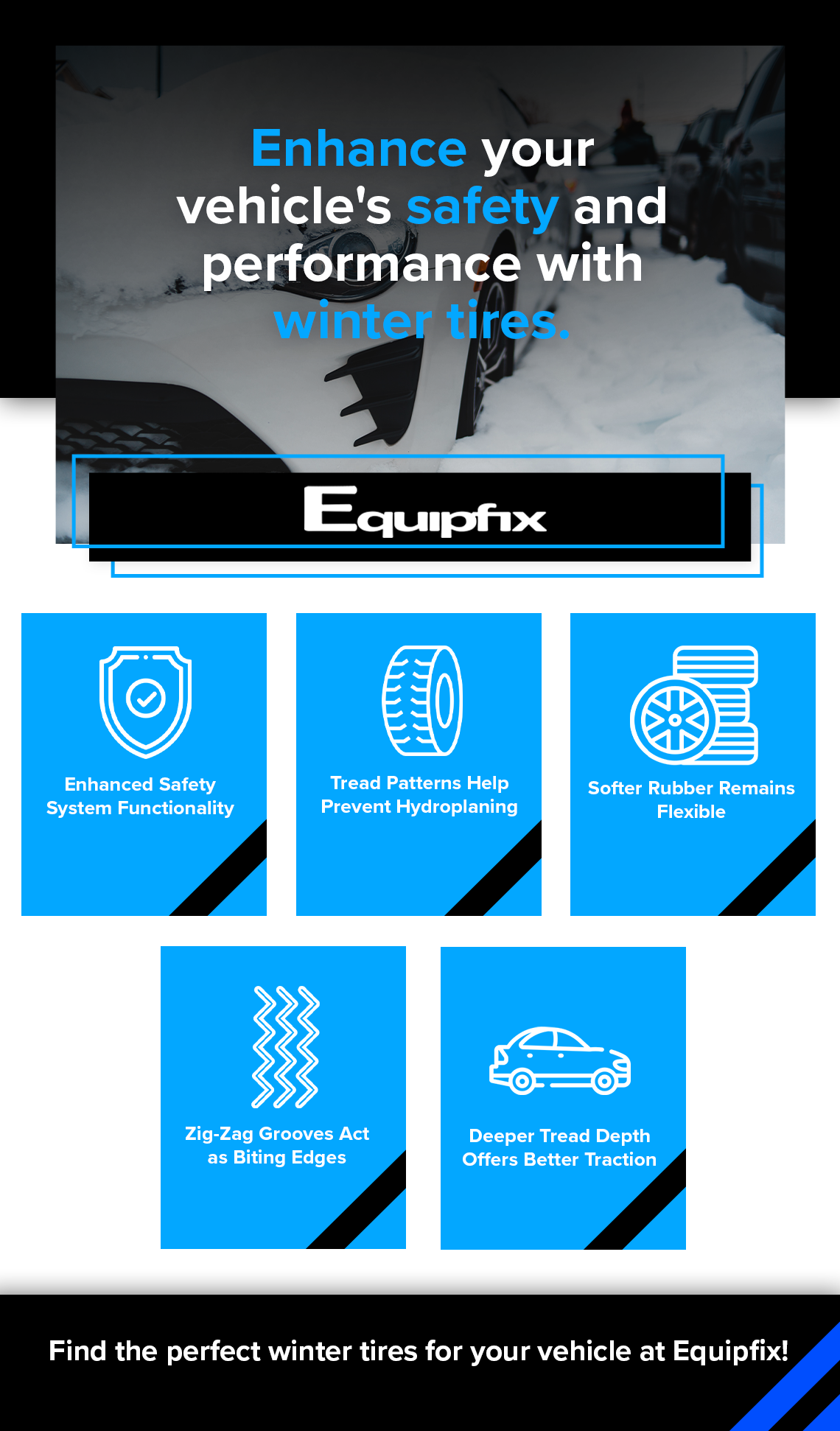 What Makes Winter Tires Unique
There are specific features included in winter tires, which give them the ability to better handle the dangerous conditions of winter roads.
Rubber Composition
The tread rubber of an all-season or summer tire will not perform well in extremely cold temperatures because it will stiffen and provide less sufficient traction. In winter tires, the tread rubber is designed to remain soft and pliable in cold temperatures so your tires can continue to provide the best level of grip and traction.
Tread Depth and Patterns
Winter tires feature deeper tread depths than other tires, as this improves traction in the snow and also helps lessen snow buildup. Additionally, winter tires feature unique tread patterns, which help prevent hydroplaning by efficiently pumping water through the tread. Moisture is pushed out and away from the tire so your wheel can make solid contact with dry ground.
Biting Edges
Winter tires also include one other thing that regular tires do not have — zig-zag grooves covering the tread. These grooves act as biting edges to help your car grip the road even in snowy and icy conditions.
How to Find the Right Tire for Your Needs
Ready to find the right winter tires for your vehicle to enhance your safety and vehicle's performance this winter season? Contact Equipfix in Ontario today to request a quote on your preferred winter tires or schedule your service.
GOOD
Good winter tires provide an extra level of safety for your vehicle if you drive in snow, ice, sleet, or freezing rain. This level of winter tire is intended to help make your daily commute a bit smoother without providing the extra traction that would be required to drive unplowed roads in the country.
BETTER
This type of winter tire is ideal for daily commuters who drive on plowed or treated roads and deal with slush and black ice throughout the winter months. Winter tires that fall into this category should offer:
Exceptional wet traction for slush-covered roads
Remarkably quiet travel
Superior grip on ice and snow
BEST
Winter tires in this category are designed to handle the toughest conditions winter can throw at you. Whether you travel the backroads or drive in the mountains, you need the best winter tires available. This type of winter tire will perform better than any other in snow and ice, with a significant improvement on cold and wet roads. Additionally, you'll be able to enjoy a longer tread life with the best tires, which makes these winter tires a great investment!
REQUEST A QUOTE
Fill out the form below to request your customized winter tire quote.